Trending
Nation Hides Sadness In Hilarious Obama And Biden Bromance Memes
President Obama's time in the White House is reaching its end, with January 20th the date of President-elect Donald Trump's inauguration.
The day when our country peacefully transfers power, like it has done for the last 228 years.
In the midst of the announcement of Donald Trump as America's next president the internet has released a firestorm of hilarious memes depicting President Obama and Vice President Joe Biden's Bromance.
It's hilarious and yet it makes us sad knowing that soon this will soon be nostalgia.
Below are a few reasons President Obama and Vice President Biden are the internet's new favorite power couple. Here are a few of our favorite posts.
1. We all want a relationship with someone who looks at us with the same passion as Biden does Obama.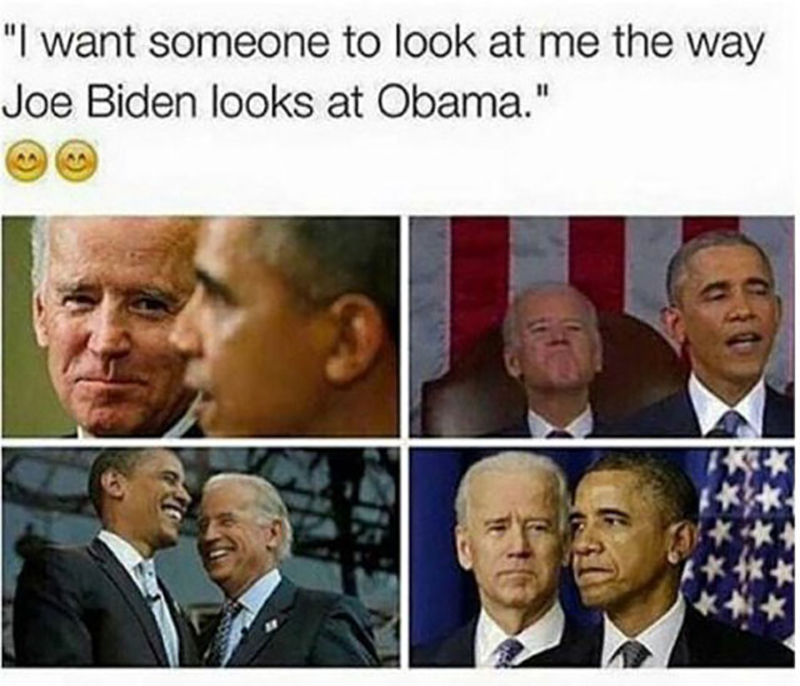 ---
2.  Friendship Bracelets are Forever
Happy 55th, Barack! A brother to me, a best friend forever. pic.twitter.com/uNsxouTKOO

— Vice President Biden (@VP) August 4, 2016
---
3. Now this is just a little clingy…
"barack please don't leave me with them"
"joe you're leaving when I leave"
"oh right lmao love u" pic.twitter.com/zfIt3Bv0wl

— heather (@witchyvibe) September 27, 2016
---
4. Obama and Biden vs everyone else.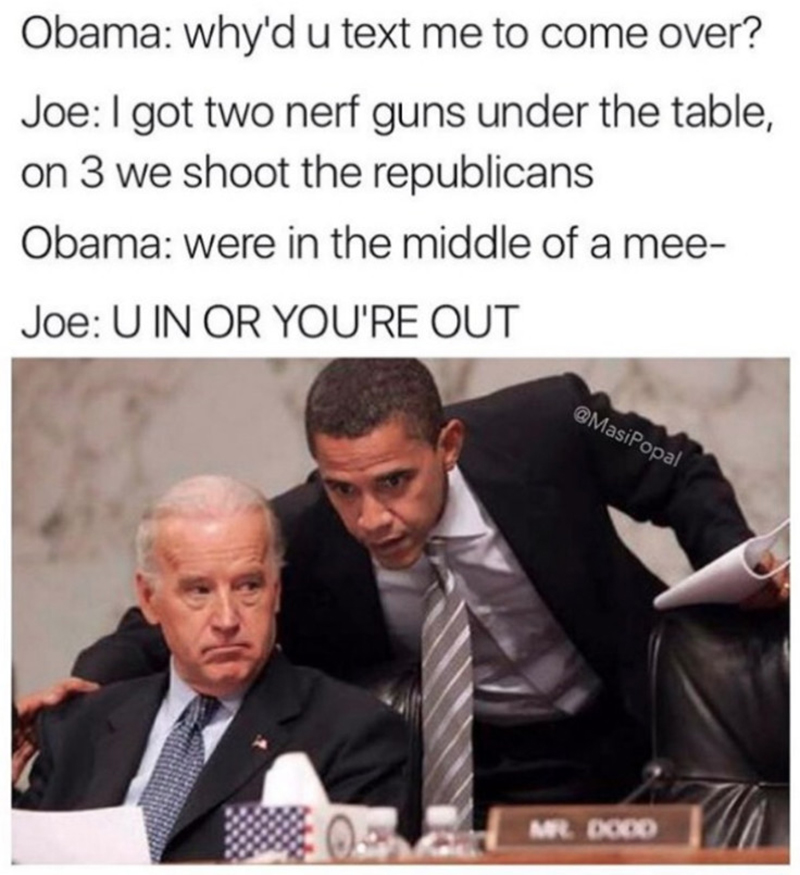 ---
5. Obama will always be President in our Eyes
Joe: I'm never calling him Mr. President.

Obama: Joe, please

Joe: Not even if there's a fire. pic.twitter.com/f9s6L11jha

— Taylor Sweet (@Tsweezy93) November 9, 2016
---
6. A great bro always has your back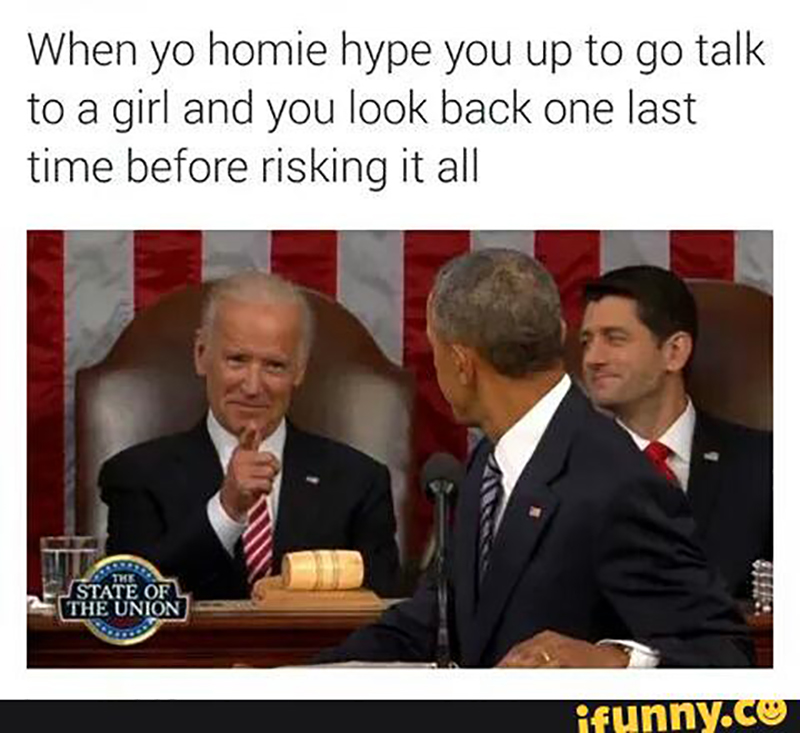 ---
7. When your friend is trying to convince the girl he's seeing to bring a friend for you.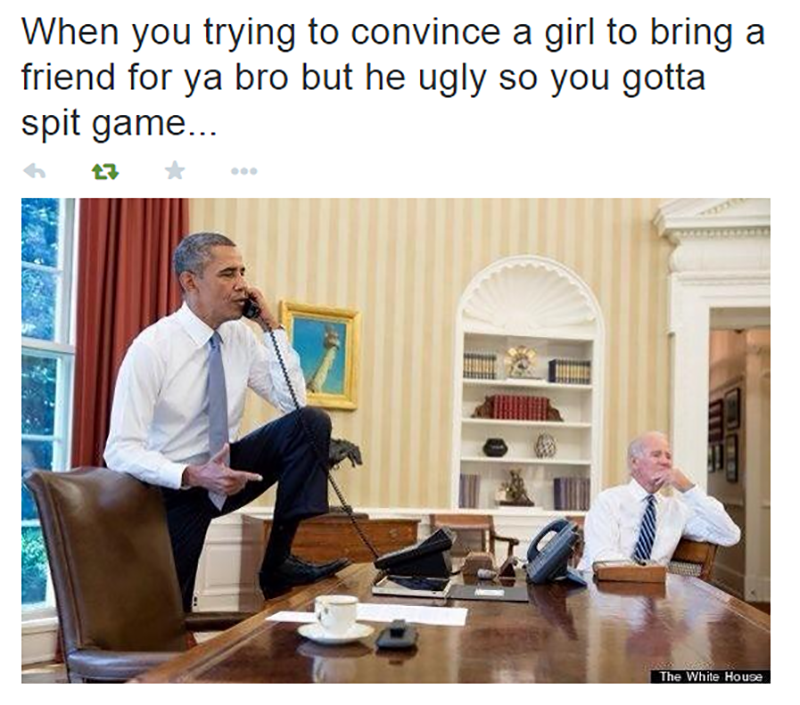 ---
8. Even former presidents can't come in between the bromance.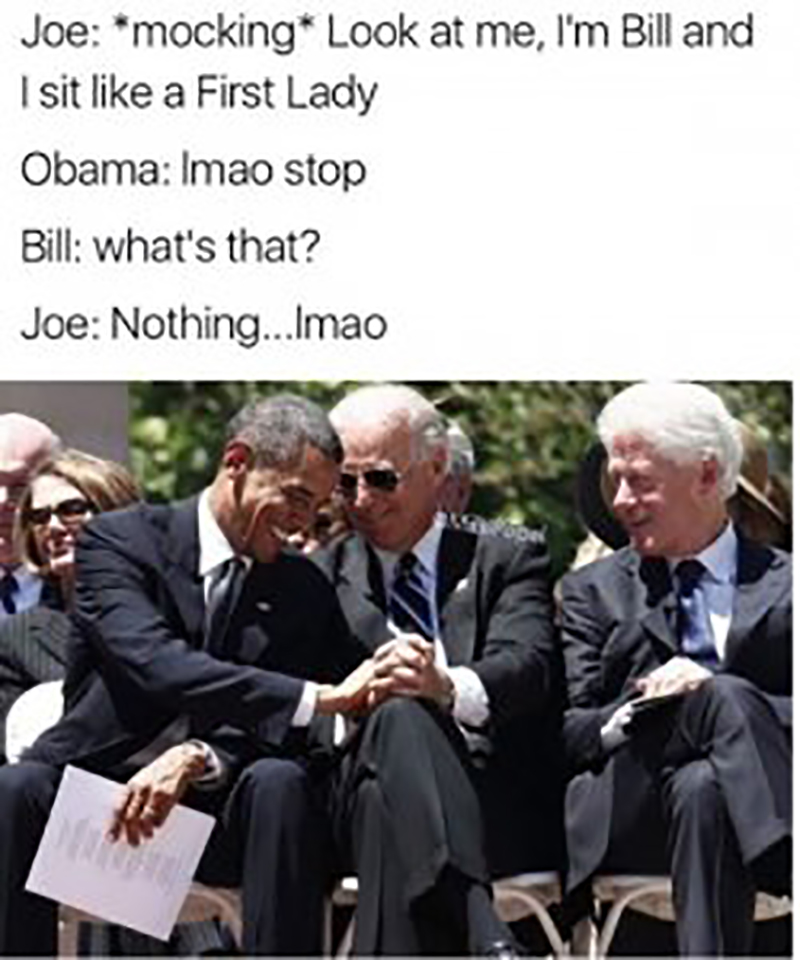 ---
9. "Can't you see the Jet's flying over you?"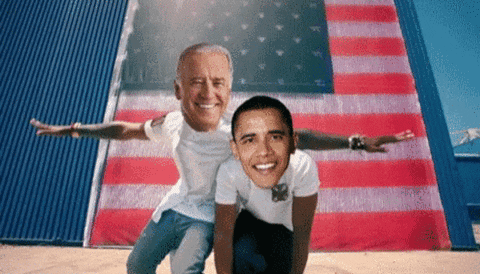 ---
10. When your bro doesn't like someone you don't either.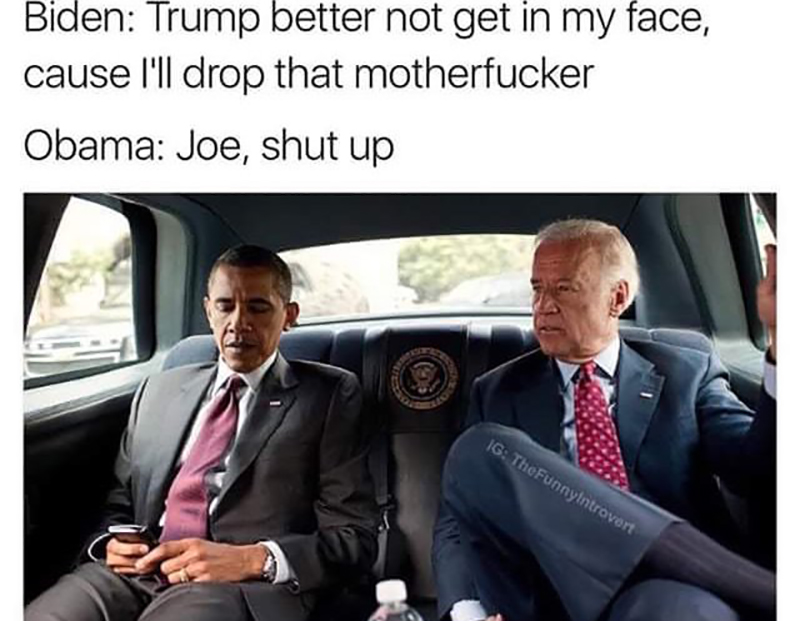 ---
11. "We don't need him, why don't we do our own thing?"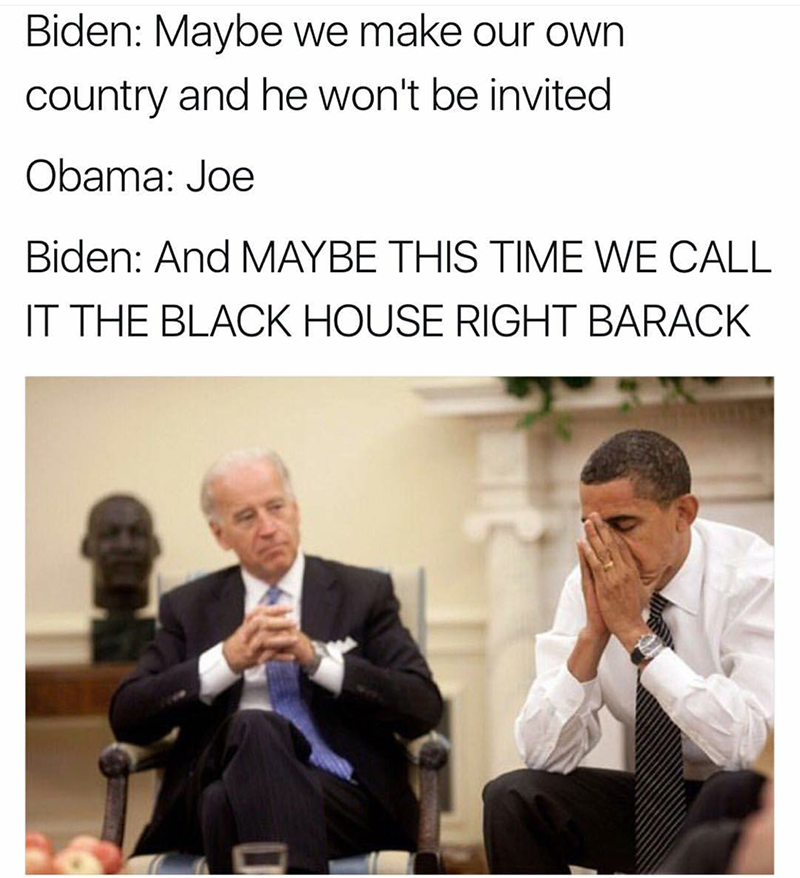 ---
12. Joe is not going to make the transition easy
.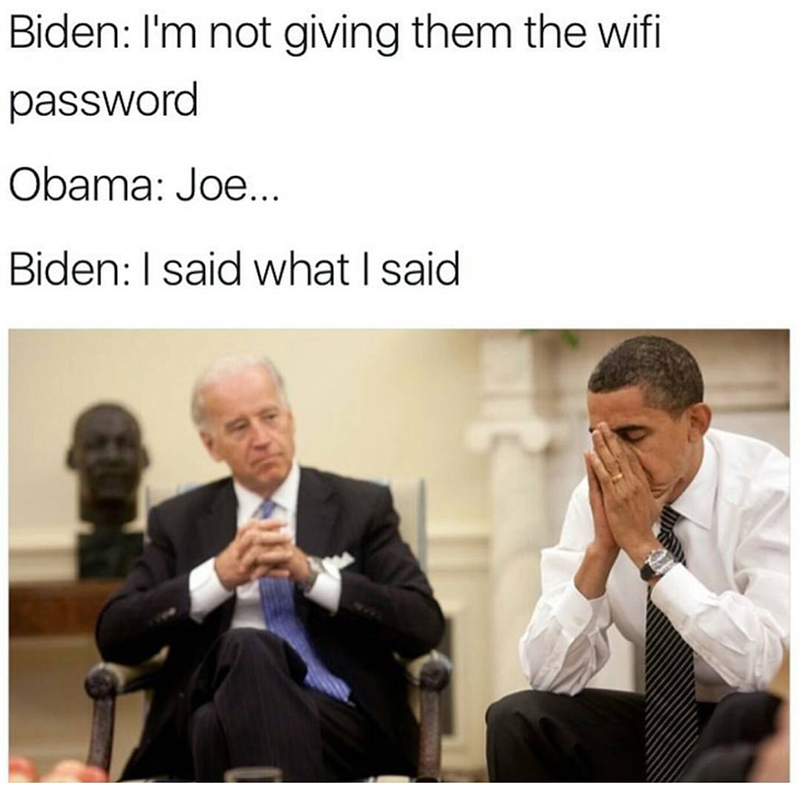 ---
13. Set him up booby traps Kevin McCallister style
Biden: Ok here's the plan: have you seen Home Alone
Obama: Joe, no
Biden: Just one booby trap
Obama: Joe pic.twitter.com/IDTc2L1sKF

— Dean E. S. Richard (@deanfortythree) November 11, 2016
---
14. Joe and Obama = Batman and Robin
---
15. Loserssayswhat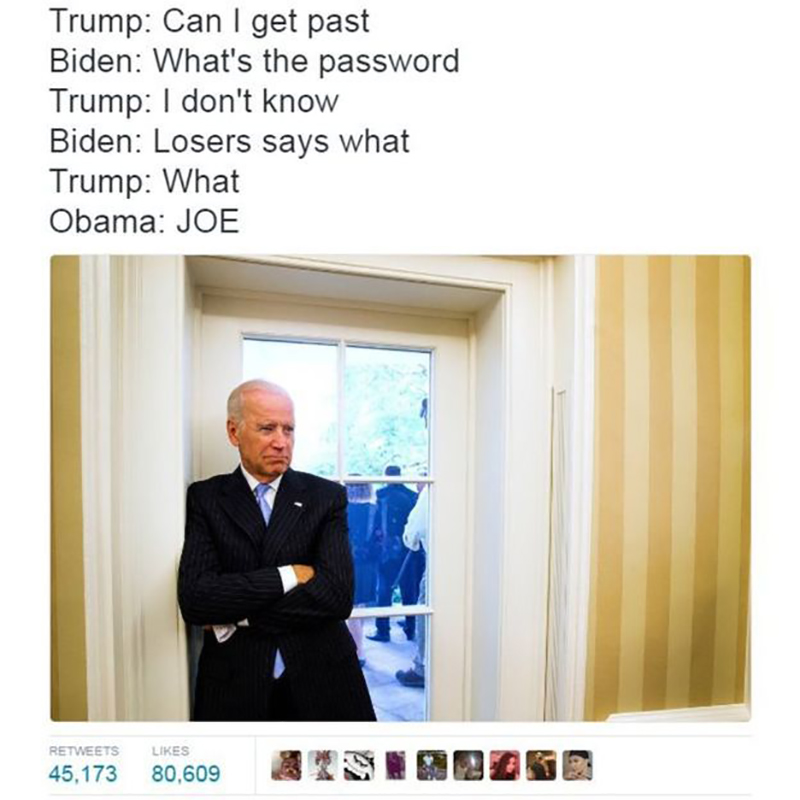 ---
16. "How about that wall?"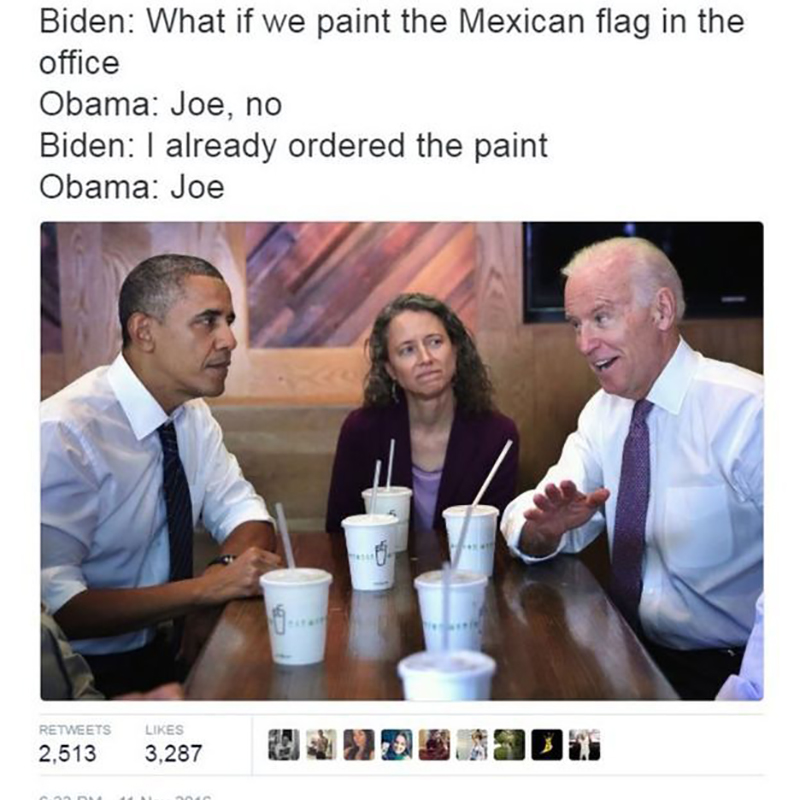 ---
17. "Let's freak him out"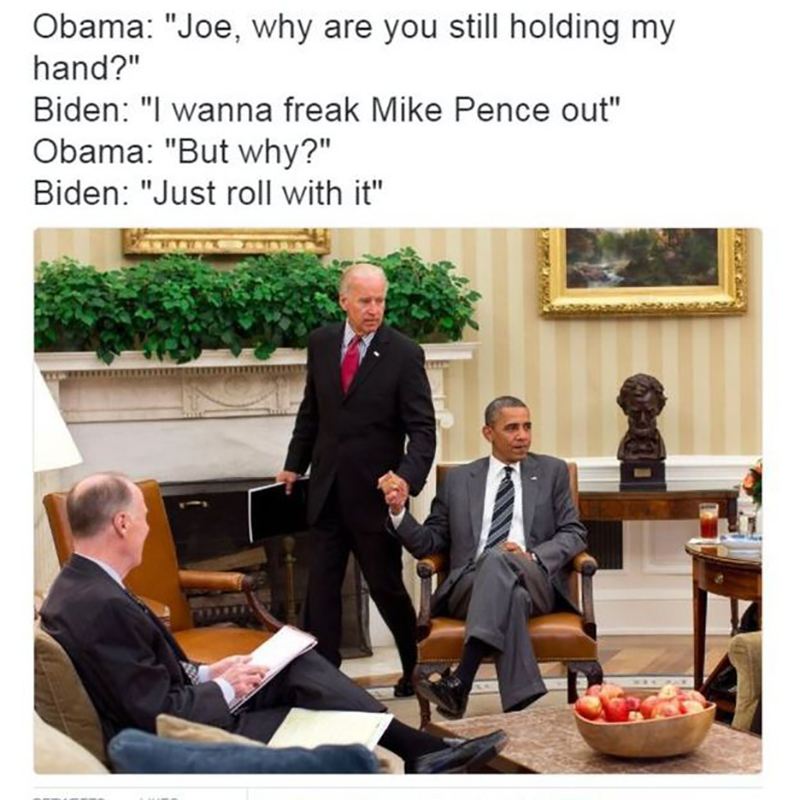 ---
18. FLOTUS

---
19. "PssyGrbbr45"
Biden: I changed the wifi password.
Obama: Joe…
Biden: It's "PssyGrbbr45" now.
Obama: No, Joe.
Biden:… pic.twitter.com/hA6ozU0Hww

— Khary Penebaker (@kharyp) November 12, 2016
---
20. This last one say's it all…


We'll miss President Obama and Vice President Joe Biden as our leaders, and it's hard to say what happens in the next four years, but we find comfort knowing that they're with us through all of this.